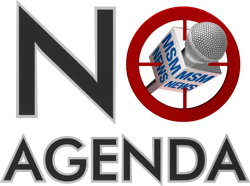 Welcome to No Agenda Fun (formerly NoAgendaEntertainment). I hope to make this a one stop shop for the most interesting books, videos, audio as well as dining and food reviews that have been mentioned on the No Agenda podcast hosted by Adam Curry and John C. Dvorak.
I launched this site over five years ago on June 2010. This site isn't related to Adam or John directly, but is a known as a 'producers' project. The hosts of No Agenda encourage the show's audience to create sites related to the show in order to help spread the word about it.
About No Agenda
No Agenda is a podcast than can be best best described as a show where the hosts, Adam Curry and John C. Dvorak, attempt to deconstruct current news from the main stream media and identifying meme's, so the listener can better understand what those in control are trying to accomplish.
Contact Us
Ideas for a post or other suggestions? Send us an